Why hello there, Cookie Lovers!
How've you lovely people been? :D
We've come to realize that the blog has quite a number of spiderwebs nesting about hihi.
Many apologies for that.
We've been sooo occupied with orders coming from not just Selangor but Surabaya, Indonesia!
To know that 'A-Fookies !' is known to the Indonesians is just, we don't know.
We're too stoked! :B
And we couldn't thank you enough for helping us make 'A-Fookies !' viral!
So today, we'll be sharing a few tips with you cookie monsters on how to
really
savour them cookies!
This time's entry is titled as above for a reason. We will teach you a few tricks that you can use at home on
any
type of cookies that'll yield you a better result!
#1 Do not let your chocolate chip cookies to cool on wire racks
(should you bake some) before serving them. They taste surprisingly better when they're warm! We'd know cause we've tried. ;)
Fret not if your cookies are already resting at room temperature.
Just get them (or even your store-bought ones!) into the
microwave
and
heat 'em up for no longer than 30 seconds
or their texture will turn very dry and the cookies might even get burnt!
This has happened to us, unfortunately.
#2 Pack those cookies with a piece of bread or pieces of dried fruit.
This will ultimately help in preserving their freshness for a few days or so!
#3 Freeze already-baked cookies!
This might come as a surprise to many of you out there but freezing baked cookies is actually a GREAT way to maintain the freshness of the cookies besides storing them in an air-tight jar/container. As to the freezing part, be sure to double-wrap your cookies securely as you do not want them to absorb any unwanted odour from the freezer. When you're ready to eat your frozen cookies, let them come to room temperature OR if you're the impatient type, just pop them in the microwave on high for about 30 seconds, more or less (times will differ depending on the size of cookie you're defrosting).
By far, we haven't come across a baked cookie that doesn't freeze well but you are more than welcome to try out as many types as possible!
P/s: We learn from experience so that you won't have to. :)
Oh yeah, do drop us a comment or two and share us your tips!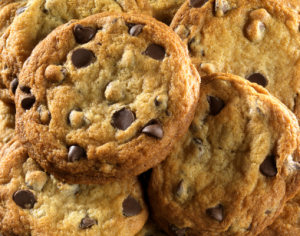 The Classic Chocolate Chip Cookies!
Agreeing or not, we hope you'll try out these tips we've given you. These tips, they require minimum effort, yet deliver a superior taste to your tastebuds!